Fitting and Adjusting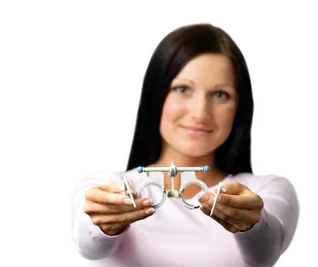 Trust our staff to help you find the right pair of frames for your tastes budget and needs. Whether we are filling your prescription for glasses or sunglasses, we offer the best customer service in town and a wide selection of popular frame styles. Making sure that your prescription is accurate and that your glasses and sunglasses fit right is our number one priority when you rely on us to deliver high quality eye wear. Our staff understands how to get the perfect fit that will keep your glasses in place long after you have walked out the door.
Often times when prescription glasses or sunglasses don't fit right it is easy to put off getting them fixed. Unfortunately the cost of delaying this fix is having to deal constantly with eye wear that slips out of place, making seeing, working or driving difficult. Thanks to our skilled staff, this is a problem easily remedied in our office. Contact us today to schedule an appointment to fill your new eyeglass or sunglass prescription or stop in
My Online Clinic is our secure patient portal software – allowing us to communicate with you without holding on the phone or other hassles. Through this system you can register, message your doctor, and view your chart. Click here and create your secure online account today!